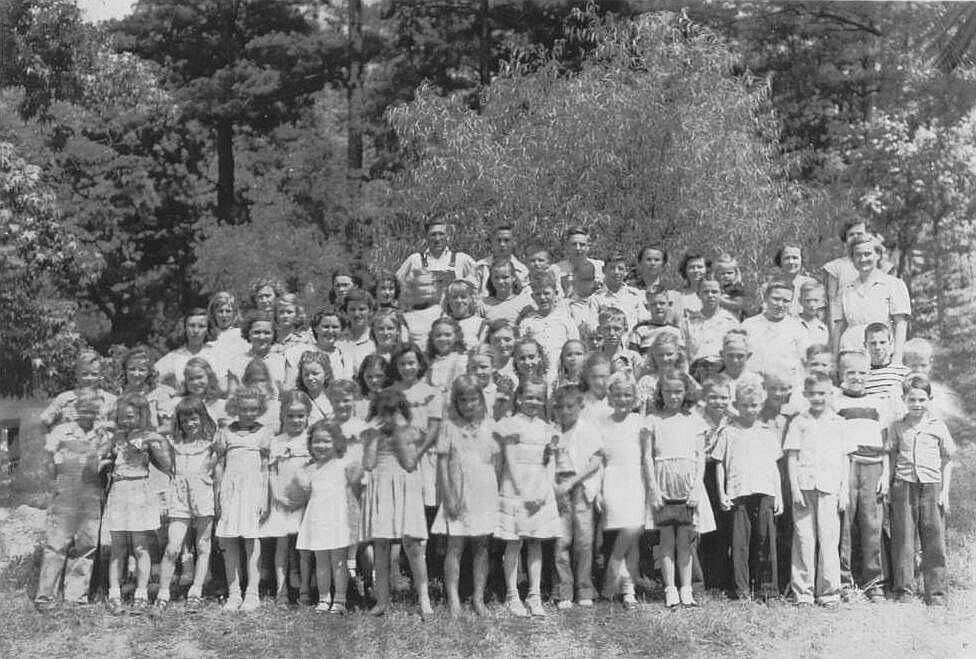 Vacation Bible School group, probably
taken around 1948-50.

Left to right: Row 1: unk, Linda and Brenda Ledbetter (don't know which is which), Janie Gilliland, unk, Josephine McDaniel, Mary Gail Hill, unk (face covered), unk, unk, unk, Audrey South, Jerri Thrasher, Charles Bardon, Morris Thrasher, unk, Wade Skelton, Bob Skelton, George Parker. Row 2: George Thrasher, ? Thrasher, Gail McDaniel, unk, Frances Beams, unk, Doris Wheat, Billie Sexton?, Ethel Parker, Ruby Hollingsworth, unk, Mamie Free, Gerald Lovern, Buddy Ellis, Boyd Thrasher, Charles Otts. Row 3: Reva Joan Thrasher, Mrs. Bardon, Edith Otts, unk, Hazel Skelton, Christine Hallman, Adolph South, Hubert McDaniel, Jimmy Hill, Bennie Bardon, Tommy Otts, Seaborn Crossland, Thelma Crossland. Row 4: unk, Mrs. Josie McDaniel, June Bobo, Maureen Thrasher, Dean Gilland, Hazel Barton?, Sue Jo Sexton, Anniece Sexton, Betty Faye Thrasher, Cherry McDaniel, unk, Billy Ledbetter, unk, Mrs. Elton South, Mildred South, unk, unk. Row 5 (back row): Arvil Lee Krout, Herschell Crossland, Sonny Ellis, Buford Miller.

From Charlie Otts