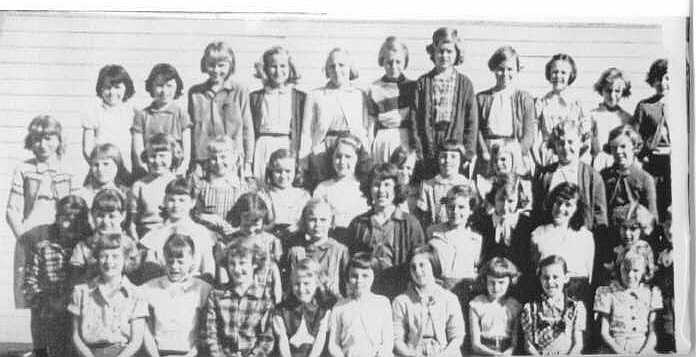 This is a picture that was taken from one on the wall at the 2002 reunion. I think it was a 4-H Club at Montgomery School.
On the back row, left to right is Emogene Watkins, Imogene Watkins, Mae Nell Gilliand, Bama Hallman, Corephine Winters, ? , Patricia Hurt, ? Brown, Joyce Wheat, Janie Gilliand, ?
Next row, June Swiney, Juanita Guin, Myra Freeman, Sandra Freeman, Vera Hollingsworth, Josephine McDaniel, ? , Emogene Gilliland, Martha Bigham, Berthaline Hollaway, ? ,
Next row, ? , Patricia Walters, June Skelton, ?, ?, ?, Gracie Smith, Gail Wicker, Charolette Ellis, ?
First Row, Benay Strickland, Sybil Corbin , ? , ?, ?, Mary Lee Hallman, Linda Ledbetter, Florine Sanford, Linda Phillips.
Maybe I got all the names right that I could remember.
Webmaster: If you see any Imogene identified incorrectly or know some that she didn't let me know.
From Imogene Watkins Smith